BUSD stablecoin, an unnecessary endeavor to make money on a fast and loose idea is now in big trouble. And by big trouble, we refer to the investors who are holding this inherently questionable asset. Now, if Changpeng Zhao is the father and Paxos is the mom, CZ has now officially gone to get milk and Paxos is doesn't want custody. Why did this happen?
A few days ago, the New York Department of Financial Services directed the crypto company Paxos to stop minting the stablecoin Binance USD (BUSD). Naturally, with such regulatory push, companies will get mad and go to court and fight the decision. But in case of Binance, Changpeng Zhao simply pointed out that BUSD stablecoin is not issued by Binance. Furthermore, CZ stated that the BUSD lawsuit is between the SEC and Paxos and Binance has nothing to do with it.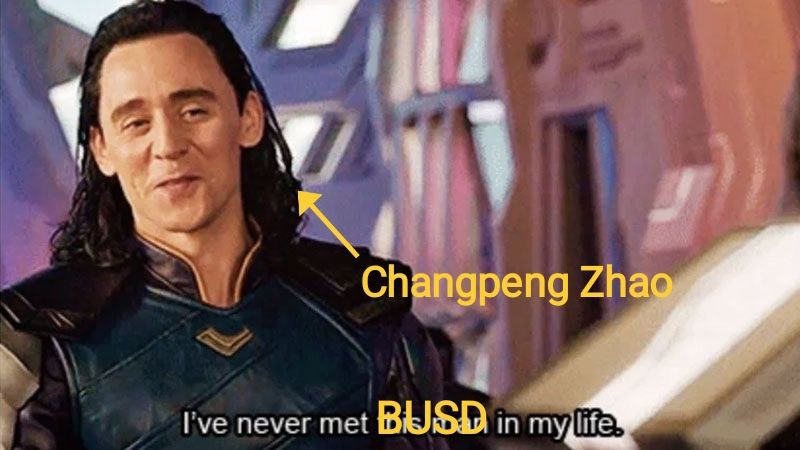 The Great BUSD Stablecoin Dump
And now, new data from Santiment shows that whales and sharks are dumping Binance USD. With all the regulatory uncertainty, holders have unloaded over $200 million in one day according to the analytics firm. Perhaps, the lack of responsibility from Binance is a big part of this massive failure.
According to the firm, addresses holding between $1,000 to $10,000,000 BUSD stablecoin have now ditched their supply. In Total, investors have sold over $207 million worth of Binance USD in 24 hours.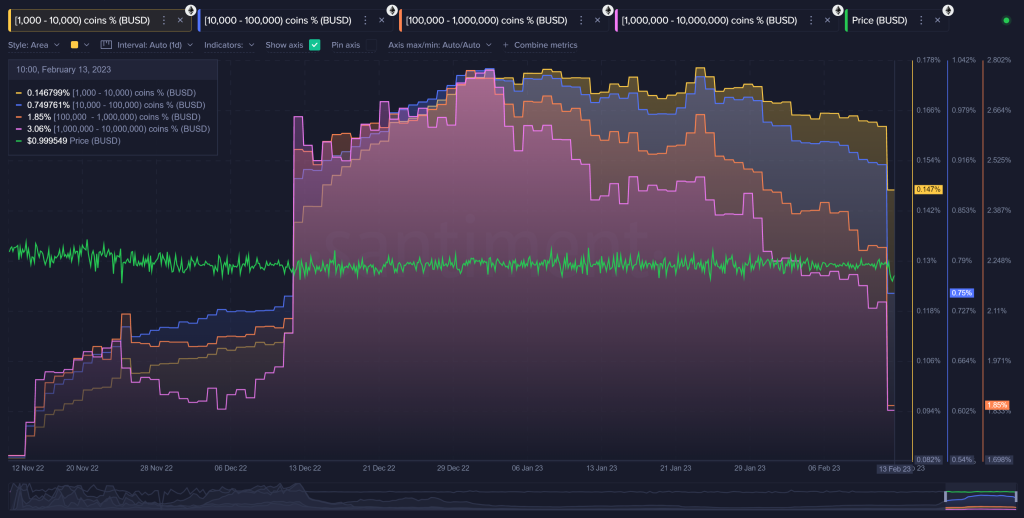 With that, the BUSD stablecoin supply reached its highest level at 58.9% Basically, crypto exchanges have currently more Binance USD coin on their hand that nobody wants to buy.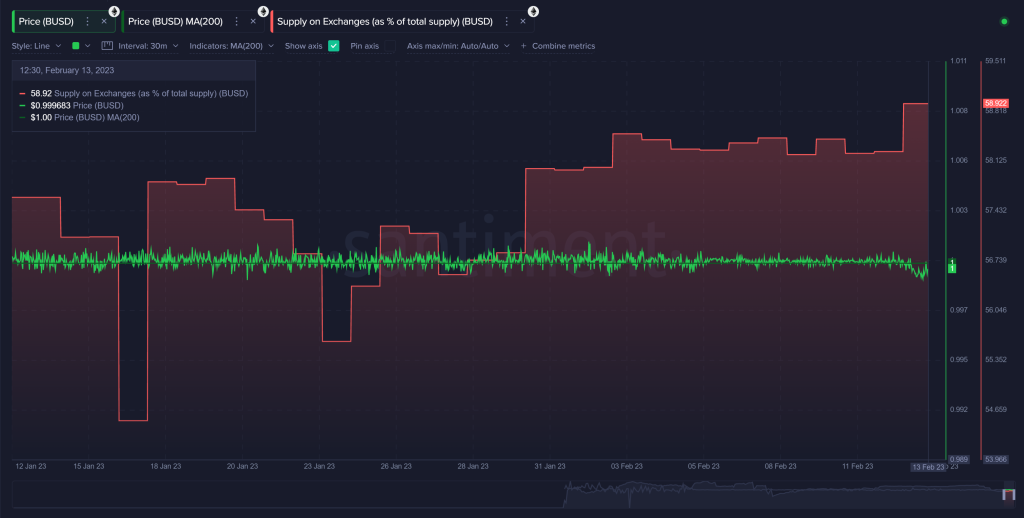 Here Comes a Lawsuit
If there's anything we have learned from lawsuits, it is that they go on and on until nobody cares. Remember Ripple lawsuit?
Following the New York Department of Financial Services (NYDFS) order for Paxos to freeze production, there are now rumors about a possible SEC lawsuit. So far, the SEC has been quiet but that can change very quickly.
On Monday, Paxos announced that they will end their partnership with Binance over BUSD stablecoin. Thankfully, BUSD has been able to maintain its peg to US dollar despite all the bad news.
Previously, we reported that Binance exchange and specifically Changpeng Zhao is under federal investigation for international money laundering charges. While that may be on its way, it sure seems that regulators are closing in on Binance with a series of painfully expensive and excruciatingly long-term lawsuits. In case of BUSD stablecoin, Binance has maneuvered their way out of the legal battle by admitting defeat and throwing Paxos under the bus.
However, it would be safe to speculate that there is more to come. Over the past 7 days, BNB has fell over 10% and is trading at $297.