Silvergate bank, the innovative and awesome crypto-friendly haven, is now facing a great betrayal. Following a massive plummet of 60% in stocks, crypto firms are abandoning their old friend for cautionary reasons. A term which could also translate into cautionary fear of the SEC coming for you with a flurry of lawsuits. Now, considering the high profile crypto companies moving away from the wounded bank, we can clearly see regulators raising the stakes for such companies to take risks like they used to.
In the meantime, the Ripple lawsuit is coming to its final verdict and the result could probably have a big impact on the crypto industry as a whole. With all that in mind, as the regulatory grip get tighter, crypto firms are acting a lot more careful. And for crypto, this probably means that the age of maturity is upon us. Perhaps, this could also be a sign of Global Monetary System closing in on crypto assets in order to put a leash on them.
Silvergate Bank, The Fallen Soldier
So far, prominent firms such as Coinbase exchange and Stablecoin issuer Paxos have cut ties with Silvergate bank. Interestingly, a vast majority of these companies are already dealing with their own devastating share of ongoing lawsuits.
Last Month, Silvergate Bank informed the U.S. Securities and Exchange Commission (SEC) that it will postpone the submission of its annual financial report. According to the company's previous year report, they suffered a loss of $1 billion in Q4 of 2022 caused by the ongoing crypto winter. Or simply put, the were not able to recover from the FTX collapse.
Following that, Coinbase announced that they will no longer accept or initiate payments to or from Silvergate. This did not go well for Silvergate bank as they endured a huge 45% dip in their stock.
"In light of recent developments and out of an abundance of caution, Coinbase is no longer accepting or initiating payments to or from Silvergate. Coinbase has de minimis corporate exposure to Silvergate."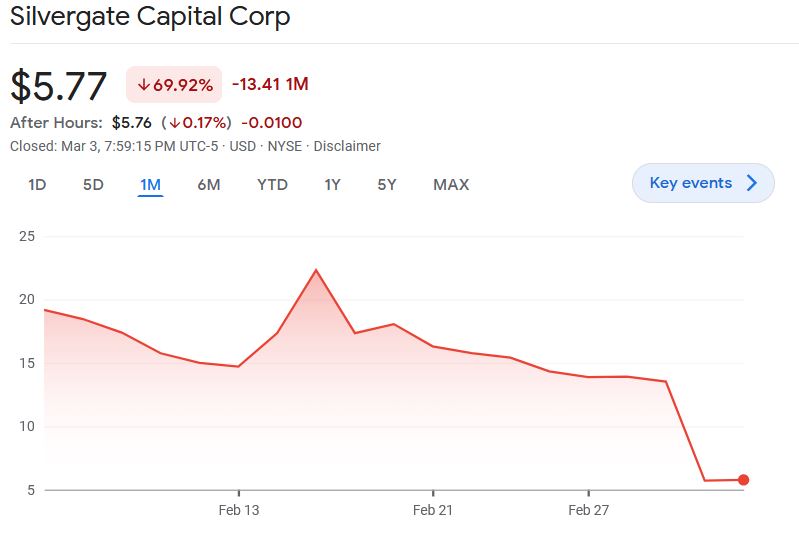 Similiarly, Paxos, the stablecoin issuer for the troubled BUSD made a similar announcement. Paxos announced that they will discontinue all transfers to Silvergate Bank accounts.
"In light of recent developments with Silvergate Bank, Paxos has discontinued all SEN [Silvergate Exchange Network] transfers and wires to our Silvergate account. Paxos will continue to process all outgoing payments."
The wave of crypto firms jumping ship has continued so far as other industry titans are now cutting ties. So far, investment firm Galaxy Digital, payment platform Circle and crypto exchange Bitstamp and exchange platform Gemini have stopped working with Silvergate.
At the moment, Silvergate stock is trading at $5.77 which is down almost 70% from its monthly high of $22.32.
The SEC Problem
As predicted, crypto regulations and the SEC are breathing down the industry's neck. Frankly, with all the reckless behavior we saw from CEOs such as Sam Bankman-Fried and Do Kwon, regulations were a long time coming. In the meantime, the debate over whether cryptocurrencies are securities or commodities seems to be settling in favor of the SEC.
As the Securities and Exchange Commission insists that crypto assets are securities, industry giants seem unable to prove otherwise. In the meantime, one of the most impactful lawsuits that is the XRP case will soon come to an end. Primarily, the argument behind this frustrating lawsuit is whether a security or a commodity. Now, even with the endless appeal system in the US, the result of this case can determine the future. Essentially, the XRP lawsuits has been going on for two and a half years. During this time, XRP has failed to attract retail investors and experience any stable growth. Basically, Ripple has been like a sick child watching his friends playing outside. And now, the SEC has clearly made an example out of XRP by showing others how they are not afraid to go to court and how detrimental their lawsuits can be for crypto companies.
In a recent interview with Bloomberg, Ripple CEO Brad Garlinghouse said that their failure will have an impact on the whole industry. Subsequently, Garlinghouse believes that SECs attitude toward crypto assets is simply "not healthy".
"The SEC bringing the case against Ripple was not really just a case about Ripple or about XRP. It's really about the industry and how the SEC is kind of playing offense and attacking the whole industry. Two and a half years ago when it started, I'm not sure everyone fully digested that. And now that is widely understood.
This is going to be pivotal for the whole industry because if the SEC is able to prevail, I think there's a lot of other cases and some of them just in the last four weeks: I think they brought five additional enforcement cases."
Considering the situation, the SEC is making it harder for crypto to get back to its boom and bust days. Simultaneously, retail investors are far more interested in AI stocks than coming back to crypto. Although AI coins are apparently a thing, they haven't had any tangible utility to prove their worth. And that leaves us with the crypto winter, which is seemingly here to stay a while.